I forgot my HP laptop password Windows 7 Professional
I forgot my HP laptop password, on which is installed with Widows 7 Professional. I tried with many methods found from the network, and finally I unlocked my HP laptop successfully. Now I am grad to share with the methods I have tried, but some of them may not work for you. I hope you can find the appropriate one to solve your password problem for your HP laptop, no matter on Windows 7 Professional, Home Basic, Home Premium, Ultimate, or Enterprise.
Guide Steps:
Method 1: Bypass Windows 7 password in Safe Mode
1. Restart HP laptop, and press F8 key repeatedly until get to the Advanced Boot Options screen.
2. Press Up/Down key to select Safe Mode with Command Prompt, and then press Enter to boot it.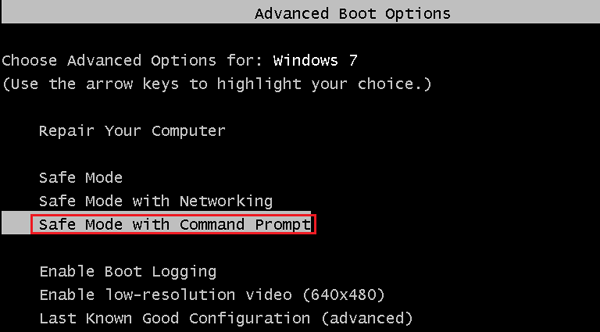 3. After a while it will boot to a logon screen. If the built-in Administrator account is enabled and has not been set a password, click on the Administrator account, then you can get into your HP laptop without password and the Command Prompt window pops up automatically.
4. On the Command Prompt screen, type in the command: net user <user name> <new password>. More detail, see How to bypass Windows 7 Administrator password in Safe Mode.
But unfortunately, my default Administrator account is not enabled, so on the logon screen I can't find the Administrator account to log into. As a result, this method doesn't work for me.
Method 2: Remove Windows 7 forgotten password with Offline NT tool
1. Download Offline NT Password & Edit Registry software.

2. And create a bootable disk with USB or CD following the instructions. More detail, go and see How to clear password from Windows 7 laptop with bootable disk.
3. When the bootable disk is created, connect it to HP laptop, and set the HP laptop to boot from the bootable disk.
4. If it goes well, it will boot to a black and white screen that you can clear your HP laptop forgotten password with the commands step by step.
But my locked HP laptop could not boot from the bootable USB drive I created, even if I had tried to create it several times, that is very frustrating to me.
Method 3: Unlock my HP laptop with Windows 7 Setup disk
I didn't have a Win 7 Setup disk, so I haven't tried with this method, if you have one, following the steps below to have a try to unlock your HP laptop password.
1. Connect the Setup disk to your HP laptop that you forgot password on.
2. Restart/start laptop, and set it to boot from the Setup disk.
3. When goes to the Windows 7 setup screen, press Shift + F10 to open a command window.
4. Replace magnify.exe with cmd.exe using the command:
c:
cd windows\system32
ren magnify.exe magnify1.exe
ren cmd.exe magnify.exe
Press Enter to run the command above. Disconnect the Setup disk with your HP laptop, and then type in the command: wpeutil reboot, press Enter to restart laptop.
5. When go to Windows 7 logon screen, click on Ease of Access button, check the box beside "Make items on the screen larger (Magnifier)". You will find the Command Prompt window pop up soon, and then you can reset your user account password with the command on method 1.
6. After resetting your forgotten password, restart your laptop again. When go to the logon screen, then you can get into system with the password just reset. And remember to exchange back the magnifier.exe. Getting more detail, see how to unlock Windows 7 Home Premium password by Setup disk.
Method 4: Get into my Windows 7 HP laptop with password reset disk
If have created a password reset disk from the HP laptop, then can use it to open the locked laptop quickly without any software. However, I didn't created a password reset disk before I forgot my HP laptop password on Windows 7 Professional, and the methods above don't work for me, so I had to create one on another computer with a tool.
1. Go to an accessible computer that is internet connect, download the Windows Password Tuner program, install and start it on the accessible PC.
2. I have a USB disk, so I created the password reset disk with USB. It is very easy. Just insert the USB into the accessible PC, select the USB device, and then click on Begin burning. After a while the password reset disk will be burned successfully.
3. Take the password reset disk insert into the problematic HP laptop, and restart it.
4. When the HP logo appears, press ESC (or F9) key repeatedly to get into Boot Menu option.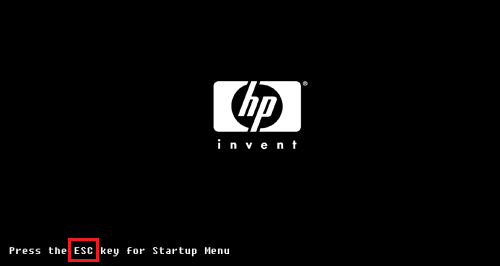 5. On the Boot Menu, select the USB flash drive, and press Enter to boot from it.
6. After a while the Windows Password Tuner program comes up. Following the four steps, select Windows 7 Professional system, user name, click on Reset password button, Yes agree to reset password to blank, and Reboot laptop normally after ejecting the USB flash drive.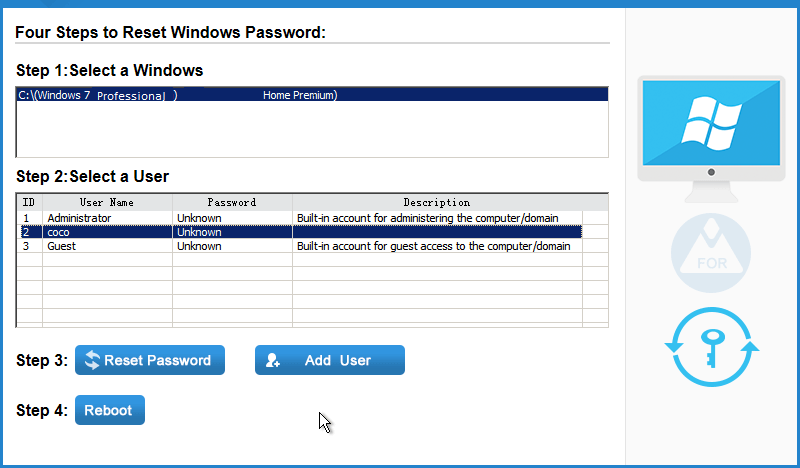 7. Surprisingly, I logged into my HP laptop automatically without asking password.
Related Articles