How to unlock encrypted iPhone backup without password if forgot password
i forgot my encrypted iPhone backup password, and now I cannot restore my itunes backup without password. What can I do to unlock it? - Question from yahoo answer.
If you have the same problem as above, I think you can take the following way to recover the iphone backup password and restore data from iTunes backup.
As I known, there isn't a way to unlock encrypted iPhone backup without password, but there are many software can help you find back the lost password for iphone backup. See guide as blow:
1. unlock encrypted iPhone backup password with software
2. Retrieve data from itunes backup with tool.
Guide to unlock encrypted iphone backup password with software:
Step 1: Download Cocosenor iTunes Password Tuner on your computer.
Step 2: Double-click on "cocosenor-itunes-password-tuner.exe" to install it and start it now.
Step 3: Click Open and choose a iTunes backup file. If iTunes backup file isn't listed on list, you can click "Add File" button to find iTunes backup file and add it. Generally speaking, you can find the backup file on "C:\Users\user_name\AppData\Roaming\Apple Computer\MobileSync\Backup".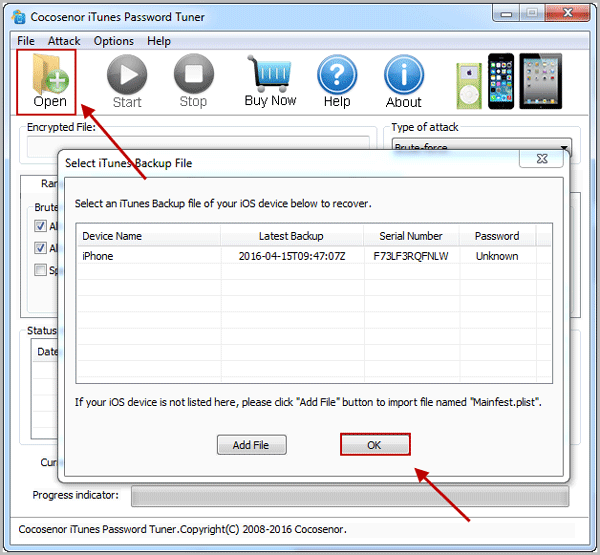 Step 4: Keep the default setting, and click Start to unlock the password for iPhone backup.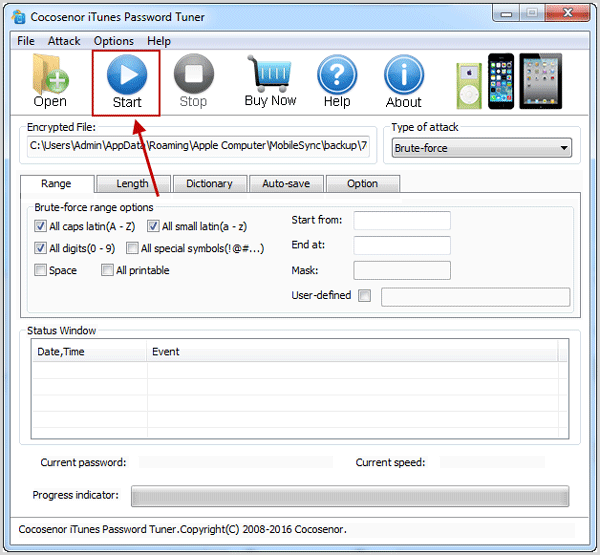 Tips: It may take a long time to unlock the password for encrypted iPhone backup file if the password is strong. I recommend you spend half an hour to read the following articles to learn more skills, and then perform a better setting to short the password recovery time.
1. How to create a powerful dictionary to short the password recovery time.
2. Mask Attack - a few minutes to recover a forgotten password is possible.
Guide to retrieve data from iPhone backup
This guide tells you how extract contacts, text messages and photos from iTunes/iPhone backup file.
After you find the lost password, if you don't want to restore the iPhone backup to iPhone directly, you can use the recovered password to reomve the password from iPhone backup file, and then follow this guide to retrieve contacts, text messaes and photos from iPhone backup.
Related Articles