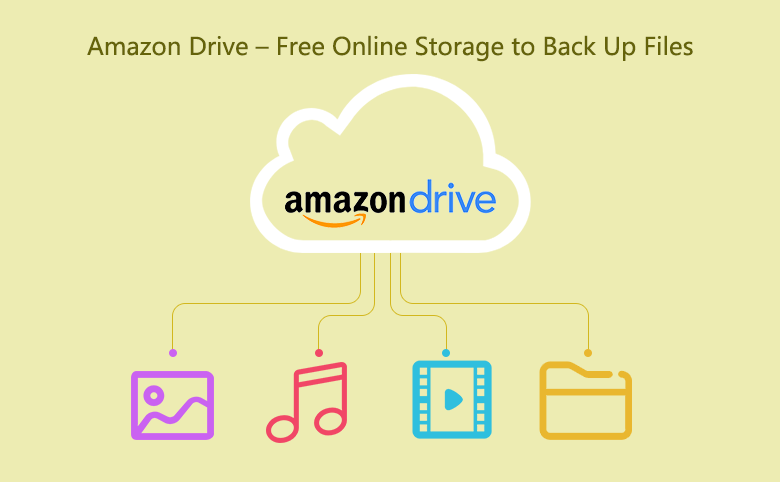 Amazon Drive – Free Online Storage to Back Up Files
Put your stuff in Amazon Drive storage and fetch them from devices anywhere. To tell the true, Online storage service has brought much convenience to our life. We don't need to attach large pictures, videos, music, kinds of files in the emails to store or share like used to. What we do today is to sign in some online storage websites or apps, then upload files there, so that we can access and download these files anytime from computer and phone as long as there has an internet connection. Amazon Drive is an online cloud storage free for us that's because everybody can get 5 GB of free storage.
How to access Amazon Drive
1. Go to Amazon.com.
2. Move your mouse cursor over "Hello, Sign in" at upper right, choose Your Amazon Drive from the list.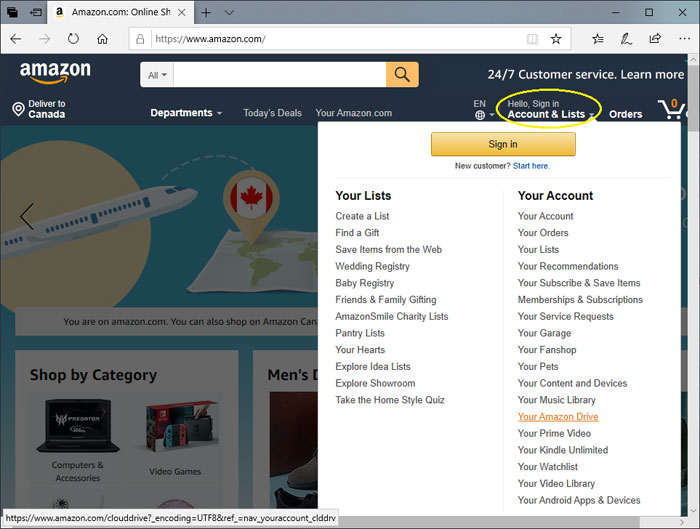 3. Sign in with your email address and password. If you don't have an Amazon account, you can click Create your Amazon account.
4. When get to Amazon Drive, you will find there are three existing folders including Documents, Pictures, and Videos. You can add more folders by clicking Create new folder at the upper right.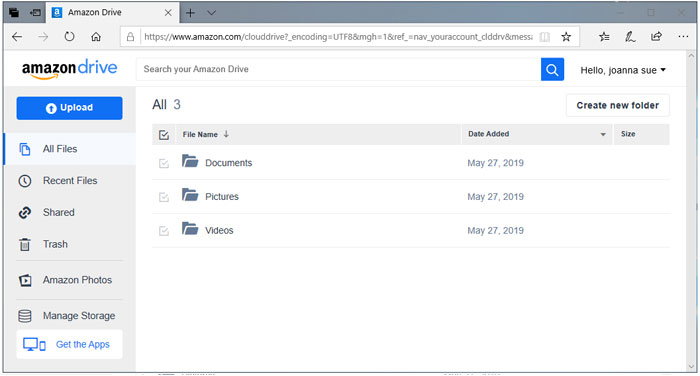 How to upload multiple files to Amazon Drive
Online photo storage
Click Amazon Photos on navigation bar at the left to manage your photos. Click on Browse to upload , or drag and drop your photos on this page. You also can click the Add button at the top of page to add albums. If you want to set a scheduled backup for photos, please download the Amazon photos backup app and install it on your PC.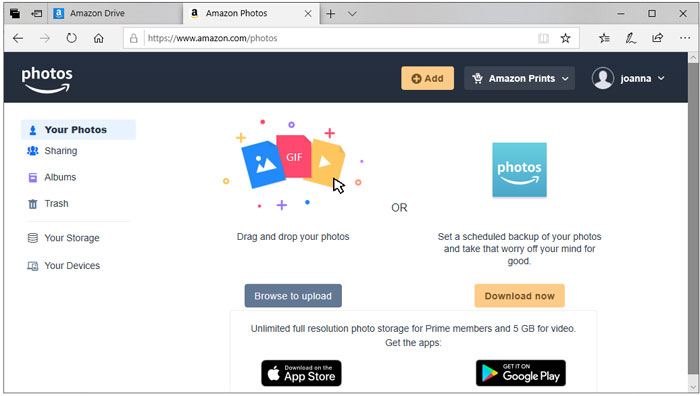 Online video storage
At Amazon Photos page, you can back up your videos too, just like uploading photos. If you want to share any photos or videos with other people, click Sharing at the left navigation bar, click the Group, click Invite people, and choose the sharing method.
Online music storage
How to back up your music to Amazon Drive? Firstly, create a new folder for putting the music. Click Create new folder at right upper corner on Amazon Drive page, type a folder name to create a new folder for your music. The new folder name will be on the file name list. Click the music folder, click Upload button at left upper corner to add your music.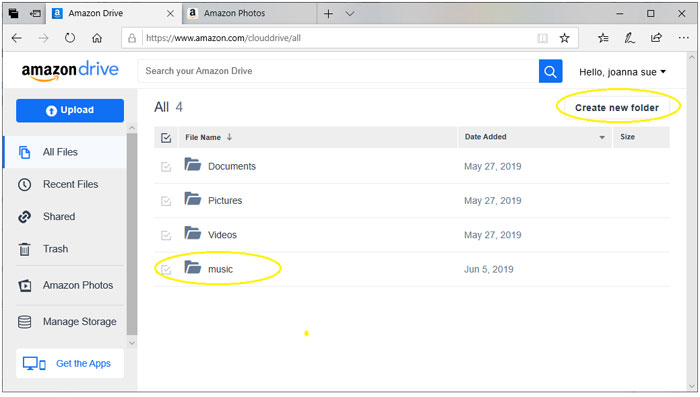 Online document storage
It's very convenient to upload and organize documents here. On Amazon Drive page, click Documents on file name list, click Upload button at left upper corner to choose your file or entire folder to upload. You can also drag or drop your files and folders anywhere on this page. Multiple files can be uploaded here.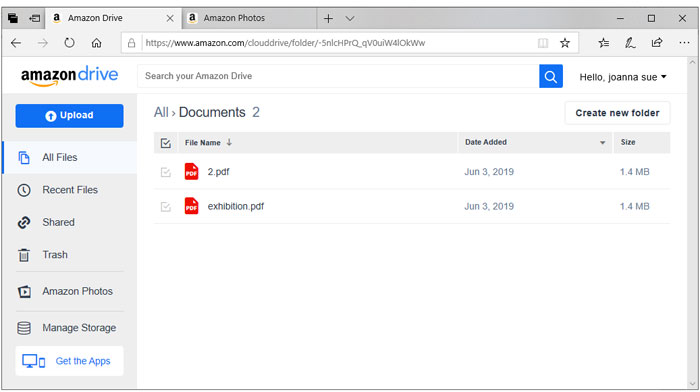 How to download photos and documents from Amazon Drive
On Amazon Photos page, choose the items, click Download on the top of page.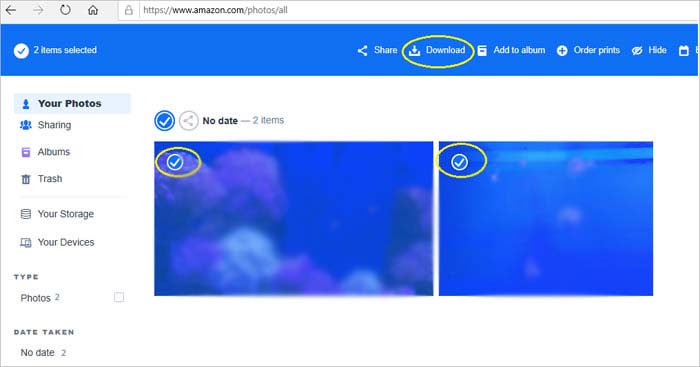 If want to download photos in Albums, click Albums at left list, click an album to open it, click the three docs at right upper and choose Download.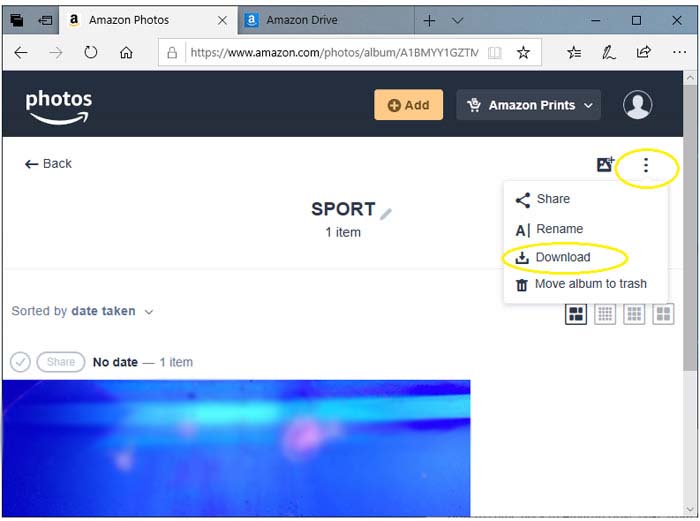 If want to download photos and documents at All Files, click the folder name to open it, choose the items then click Download at the top of page.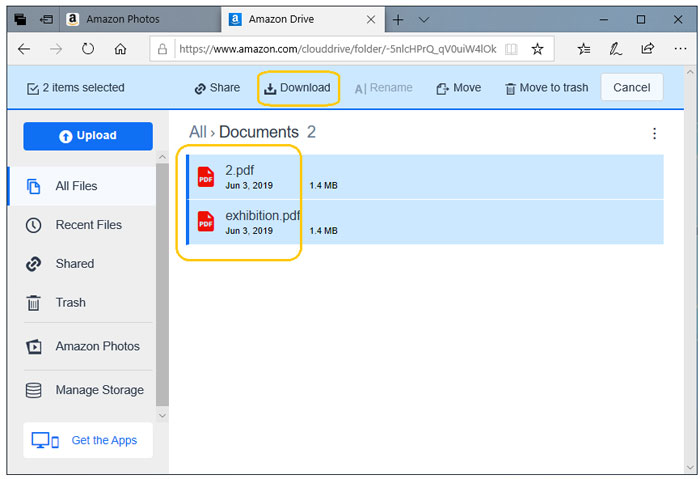 Tips:
How to come back to Amazon Drive page from Amazon Photos page?
On Amazon Photos page, click your account name at right top corner, choose Amazon Drive.
How to check the storage used and get more storage from Amazon?
On Amazon Drive page, click Manage Storage at left navigation bar. You will find the usage of Amazon Drive storage. And you can optionally upgrade to a storage plan anytime.
Believe that most of us are familiar with Amazon which is a big online store selling kinds of things. Every customer gets 5 GB of free online storage from Amazon. Well, let's make full use of this online storage by storing memories of life or making a backup of important data.
Related Articles