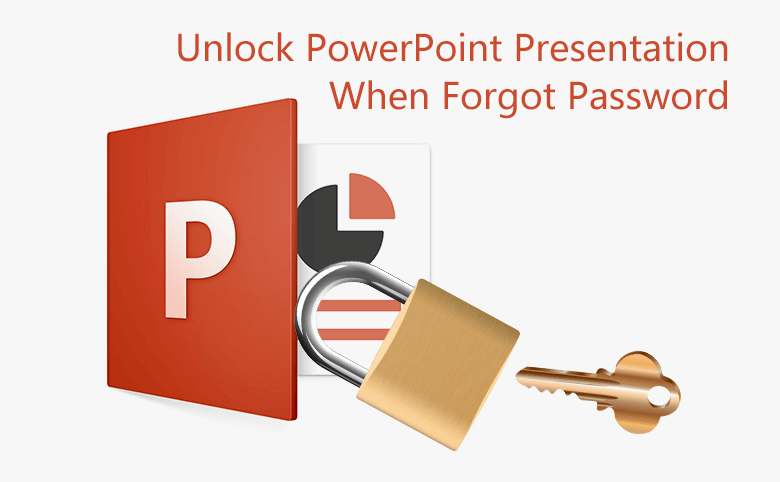 How to Unlock PowerPoint Presentation When Forgot Password
In order to protect our PowerPoint presentation from unauthorized access and modification, most of us choose to set a protected password on it. But unfortunately, if forgot the PowerPoint presentation encrypted password, we are locked out of the file too. How to unlock the PPT presentation password without damage?
Follow this article to get the method, and just have a try.
Guide Steps
Unlock PowerPoint presentation with encrypted password
If you haven't forgotten your PowerPoint presentation password, you can unlock it in the normal way with the protection password.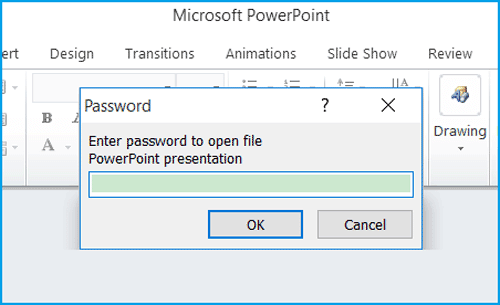 However, if you forgot your PowerPoint file password, first you can recover the encrypted password, and then use it to unlock your PowerPoint presentation in the normal way.
Step 1: Get an Office or PowerPoint password recovery tool.
1.1 Download PowerPoint Password Tuner from the site.
1.2 Install and launch it on the computer where you want to recover PPT password.
Step 2: Recover your PowerPoint presentation password.
2.1 On the password program click on Open button.

2.2 Select the PowerPoint file that need to be unlocked.
2.3 Select the recovery type.
Below the Recovery Tyoe, there are four types to select, Normal Type, Mask Type, Dictionary Type, and Smart Type.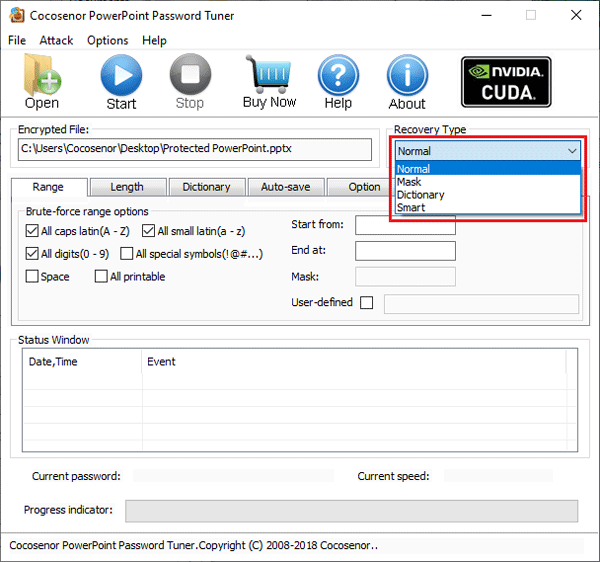 2.4 Adjust recovery settings.
Here only take Normal and Mask recovery type for example.
Normal: This type of recovery will try all possible character combinations in the character range and length you set.
If select Normal recovery type, click on Range, and select the character range. And then click on Length to set the maximal password length and minimal password length.
Mask type: If some part of the password is still remembered by you, specify it by the Mask recovery type, which will faster than the Normal recovery type.
When select Mask recovery type, click on Range, select the character range. Specify your password on the Mask text box. You can use the "?" symbol to take place of the character that you don't remember or not sure. For instance, your password is "cocosenor", but you only remember the first four characters, you can replace the forgotten characters with "?", like "coco?????".
2.5 After adjusting attack settings, click on Start button.

If the password is long and complicate, it may take times to recover, please wait for it patiently, until the password is recovered successfully.
Step 3: Unlock your PPT presentation with the password.
3.1 If the password is recovered, it will be showed on the dialog box, click on Copy, click on Open, paste the password on it, and then press Enter. Your PowerPoint presentation is decrypted successfully!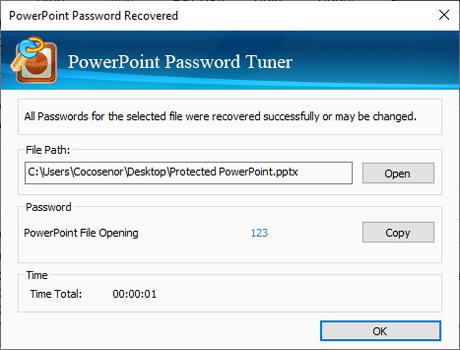 3.2 Click on File → Info → Protect Presentation → Encrypt with Password.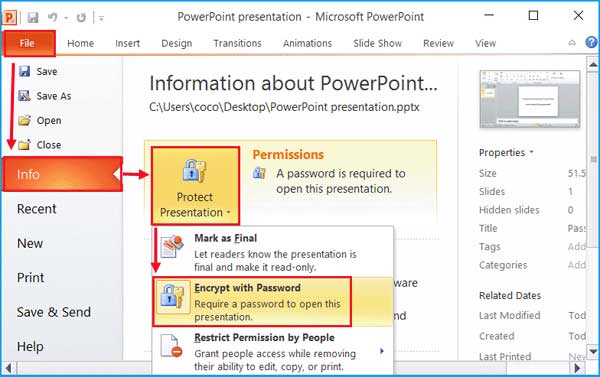 3.3 Clear the password from the text box, and click on OK. Your PowerPoint presentation has been unlocked, and you can open it without password the next time.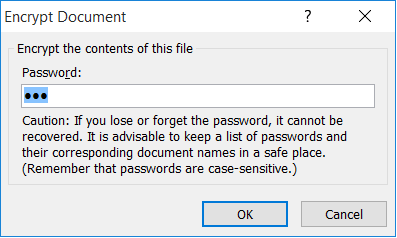 This method applies to PowerPoint 2016, PowerPoint 2013, PowerPoint 2010, PowerPoint 2007, PowerPoint 2003, and PowerPoint 2000.
Unlock your PPT file with DocRecrypt tool
When you are creating a password protection on your PowerPoint file, Microsoft recommend you to save the password to a safe place, because they can't help you to find back the lost or forgotten password.
In fact, Microsoft has provided a free password tool - DocRecrypt, for Office users to unlock their locked files including Excel/Word/PowerPoint 2007, 2010, 2013, 2016.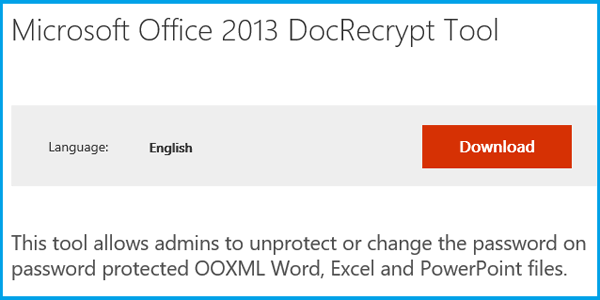 But, the steps to use the DocRecrypt tool may be a little complicated for newbie, because it is designed for IT Professionals.
To remove or reset PowerPoint Presentation password with DocRecrypt tool, you should meet the following requirements:
(1) The new Office DocRecrypt tool
(2) The PowerPoint file has an embedded public key.
(3) Permission and access to public and private keys that are associated with the certificate.
To use DocRecrypt tool to remove pptx file password on IT computer:
1. Import the matching private key to the certificate in Windows Certificate Manager by the Certificate Import Wizard.
2. Get the DocRecrypt tool and install it on IT computer.
3. Open the Docrecrypt tool command line and remove PowerPoint file password with the following command:
DocRecrypt –i lockedfile
Unlock PowerPoint presentation editing password
If you still can open the PPT and read it, but can't edit it, it means the PPT is marked as final and it is read-only.
How to unlock the read-only PowerPoint presentation to edit it? It is just a piece of cake! If don't believe, have a try!
1. Open your read-only PPT file.
2. Click File → Info → Protect Presentation → Mark as Final.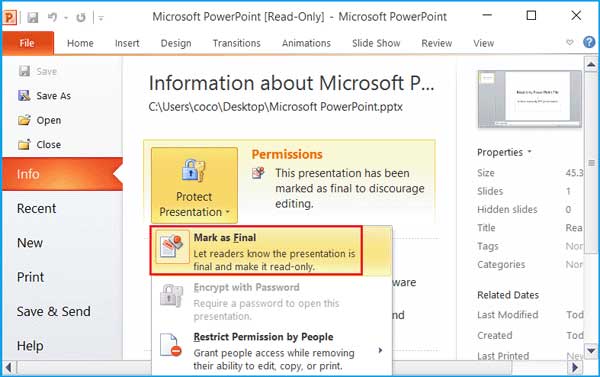 3. And now you can edit the presentation freely.
Related Articles